An extensive reel selection compliments our rod selection. This inventory allows you to choose from over 110 different reels, this almost assures you the proper reel for your needs. All the major brands are in this huge inventory.

After selecting a rod and reel all that is left is the line selection. Not an easy task at Bayside, your choices include over 11 major line manufactures. We stock most manufactures line in the full range of sizes, from 6#-130#. Leader line from 20#-400# is also in stock. Even the new fluorocarbon leader is in stock in 10-50# ratings

Want your line put on the reel, no problem at Bayside, we use state of the art line winding machines to speed the process. This equipment reduces the friction and therefor the heat when putting line on. Special care is taken on BIG GAME reels. To assure problem free operation the line on these reels is loaded by hand under a high load.

Now your ready to fish all you need is a few hooks and lures. Again Bayside is the place. A complete selection of salmon lures awaits you. Every lure that has produced salmon in the past is represented, including K, spoons, Apexs, terminators, and more. Not fishing for salmon, something a little larger, perhaps a marlin or tuna? Guess what your still in the right place. Bayside stocks over 200 big game lures. Also in stock are the hooks, crimps, wire leader, and thimbles you will need to complete your lure. Bayside offers a rigging service at no charge for equipment purchased at the store. Shipping is available at additional cost.

Salmon fishing sometimes requires trolling at depths of 100-300 feet. Downriggers are the answer to getting down to the fish. BAYSIDE offers a complete selection of proven downriggers, including Cannon, Scotty, and Penn. Cannon and Scotty electric models are in stock. To complement the selection of downriggers there is a complete choice of wire, releases, connectors, and accessories.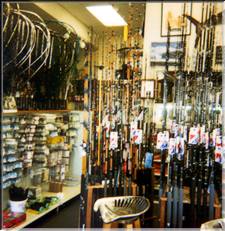 Safety equipment is a must for all fishing trips. Bayside has a complete selection of the required equipment in stock. So if your flares are out of date and it is 5am Bayside there to solve your problem.
Motor won't turn over, battery dead, again Bayside is there with batteries by Interstate A complete selection of cranking and marine batteries are in stock. Cables, connectors, and fuses are also available. In general most of your engine needs including oil, gear lube, and additives are available.
Well now that you have almost everything you need except a net or gaff. Remember state fish & game rules require you have a net to land and release undersize fish. In stock are over 10 sizes and types of nets. Some such as the Frabill Bodega Net are custom built for Bayside. There is also a selection of bait nets in several sizes and shapes.